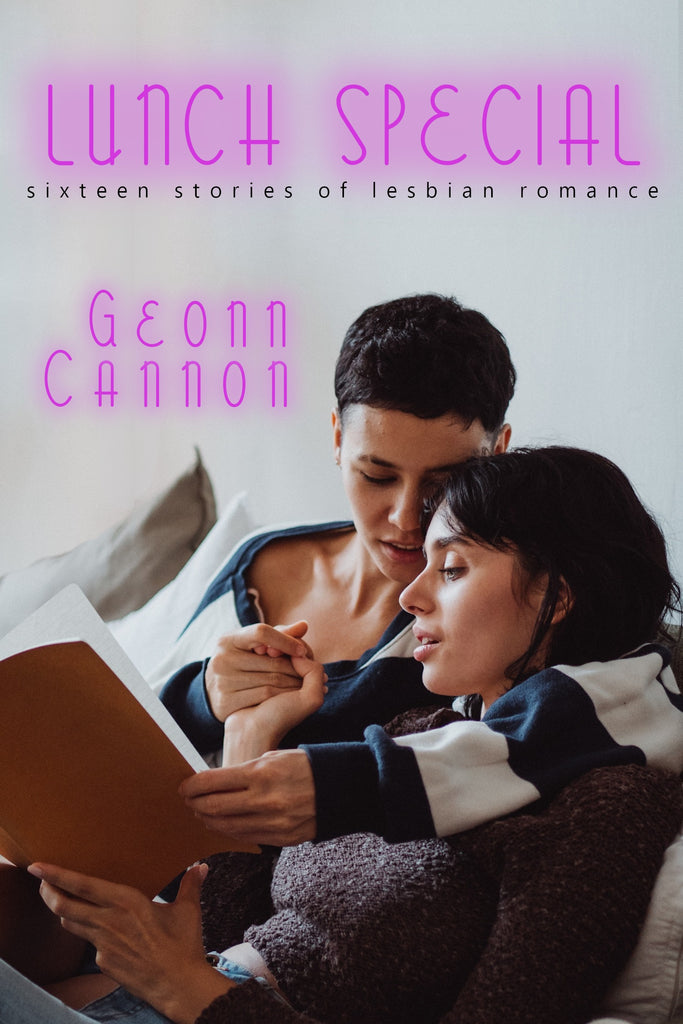 Lunch Special (a lesbian romance anthology)
Author: Geonn Cannon
Release Date: August 15, 2022


eBook ISBN: 978-1-952150-79-1
print ISBN: N/A
---
Curse the Darkness - Bad timing leads to two women being trapped together during a blackout.
Drunk on You - A lot of ifs could have prevented what happened. But then it wouldn't have happened.
For the Home Team - A tie-in with my novel The Only Game in Town. In 2016, a woman bends the rules to honor her grandmother. 
Ghost in the Machine - Love sparks between a scientist and an automaton whose intelligence isn't quite artificial.
Here at the Right Time - Just because you can time travel doesn't always mean you should.
I Don't Think You Knew You Were In This Song - A famous musician meets the woman who inspired her first hit song.
Last Gasp of Summer - Nancy was only going to pick up her daughter from summer camp. But an idle comment (and a weakness for a cute young women in a camp counselor outfit) leads her to an unexpected private lesson at the lake.
Nothing Up My Sleeve - A night out at a magic show turns frightening in more ways than one for an unhappily married audience member.
Rainbow Christmas - An envoy from Santa's Village takes an assignment to save Christmas for one little girl... and her mother.
Seven Rules for a Happy Hubby - Lizzie lost her job, which isn't that big a deal. But she has no idea how to be a housewife. Luckily, a magazine from the 1950s has tips.
She's Not Me - 20 years after her series ends, Nina is annoyed at the lasting impact of her character has on potential conquests... until she experiences the character in a whole new way. 
Surf Music - Audrey Owens was born in New Zealand and grew up in California, so this snowy holiday nonsense doesn't ring true for her. Luckily she married well.
Sweet Nothings - Monica has a crush on her favorite audiobook narrator. Downside, they work together. Upside, it seems her feelings might not be one-sided.
The End - And they lived happily ever after. And then...
Two Black Cadillacs - When a woman discovers her husband is cheating on her, she decides to get close with the woman he's cheating with. Maybe too close.
Walking After Midnight - On Valentine's Day (technically a few minutes after), Ilene's sleepwalking problem takes her on a trip.
---
Read reviews on Goodreads.
Buy at your favorite bookstore: Amazon | Amazon UK | Smashwords | Kobo | Barnes and Noble
Or ask your public library to order it!
---
Share this Product
---
More from this collection