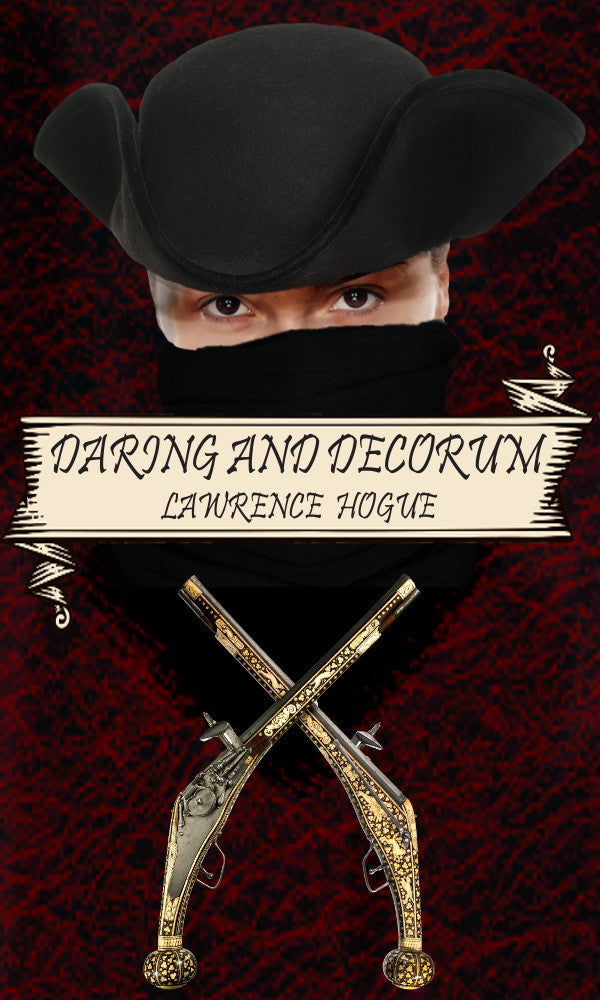 Daring and Decorum
Author: Lawrence Hogue
Release Date: Available Now


eBook ISBN: 978-1-944591-88-5
print ISBN: 978-1-944591-42-7
---
2017 Rainbow Awards Honorable Mention:
The author presents historical details convincingly, describes a small rural town vividly, and provides the forward plot as well as the backstory in a manner that holds the reader's attention.
Buy now! Amazon | Amazon UK | Kobo | Smashwords | Barnes & Noble 
Racier than Jane Austen, better-written than 50 Shades of Grey. Regency Romance, minus the hunky, shirtless Lord.
See more at Goodreads.
Elizabeth Collington, the twenty-year-old daughter of a country vicar, longs for more than the circumscribed life of her 18th-century Devonshire village. When a highwayman steals a kiss along with her mother's necklace – provoking feelings of which her father would never approve – she suddenly has a secret no one must know. But the highwayman also has a secret: "he" is actually a woman.
Will the story of the highwayman's past – complete with a tyrannical husband, a gloomy castle, and a daring escape into London's underworld – persuade Elizabeth to abandon propriety in favor of passion? In the end, can the lovers make an independent life in a world where women are little more than property, evading both the redcoats and the jealous young lord who would tear them apart?
Daring and Decorum is comedy of manners wrapped around a gothic tale; a mashup of Jane Austen, Alfred Noyes' poem The Highwayman, Robin Hood, and Moll Cutpurse; and a passionate case for the freedom to love whom one chooses, Daring and Decorum: A Highwayman Novel should appeal to fans of Ellen Kushner's Riverside series, Emma Donoghue's Life Mask, and Michelle Martin's Pembroke Park (billed as the first lesbian Regency).
This new historical novel featuring women loving women is coming in late 2017 and harkens back to Supposed Crimes' traditional focus as a lesbian publisher. The research is impeccable and the story is sweeping. While waiting for the pre-orders to go up, read The Highwayman by Alfred Noyes and check out the rest of Supposed Crime's queer historical fiction. 
Subscribe to Lawrence Hogue's blog. 
Content Warning: This novel depicts the plight of women in the eighteenth century, when they were legally the property of their husbands and rape within marriage was not recognized by the legal system. It contains very general descriptions of a marriage in which a brutal husband takes advantage of this impunity.
Ask your public library to buy it!
---
Share this Product
---
More from this collection