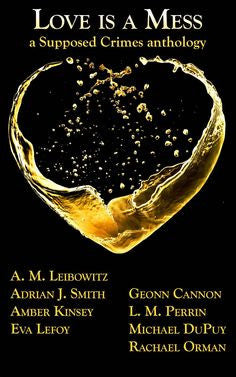 Love is a Mess: A Supposed Crimes Anthology
Author: L.M. Perrin, Geonn Cannon, Amber Kinsey, Rachael Orman, Adrian J. Smith, Eva Lefoy, A.M. Leibowitz, Michael DuPuy
Release Date: Available Now


eBook ISBN: 978-1-938108-76-1
---
Love is a Mess: A Supposed Crimes Anthology contains eight stories from eight authors on the topic of misfortune at Valentine's Day. The topics range from the fun of the moment to the power of the eternal. Lesbian, gay, and bisexual characters star in their own love and lust stories—erotic, playful, and thoughtful. Read the Inked Rainbow Reads review.  
Viral Valentine by L. M. Perrin - When a Valentine's Day prank goes badly, Paige's guilt won't let her watch the victim walk away without a proper apology.
Date Blind by Geonn Cannon - A woman discovers the worst possible blind date scenario when her date turns out to be someone who bullied her in high school.
The Politician and the Pilot by Amber Kinsey - A politician and a pilot make a steamy connection on Valentine's Day.
Bar Tryst by Rachael Orman - After her roommate blackmailed her into going to an Anti-Valentine's day party, Vanessa decided to make the best of it especially when the bartender shared that she was looking to have a good time too.
Quarter Life: Energy Feed by Adrian J. Smith - With strange creatures in her path, Faye is determined to get the information she wants no matter the cost.
Property of Cupid by Eva Lefoy - Will an ancient Greek god give up half his powers to love a mere human? Or will Cupid loose his golden arrow, letting Jeremy fall in love with another man? Excerpt.
Private Dance by A. M. Leibowitz - With Alex's sexy boyfriend, Phin, gone for three weeks, there's only one option: let his best friend's kids lead him on a treasure hunt through town to find his Valentine's gift waiting for him to unwrap.  
The Last Mitzvah by Michael DuPuy - One man seeks salvation over love, death, and ice cream.
Buy from your favorite bookstore! Amazon | Amazon UK | Kobo | Smashwords | Barnes & Noble
Ask your public library to buy it!
---
Share this Product
---
More from this collection