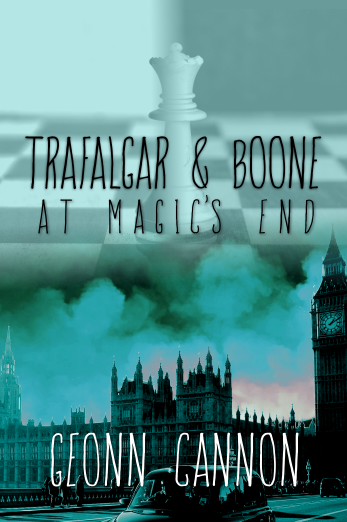 Trafalgar & Boone at Magic's End (Trafalgar & Boone 6)
Author: Geonn Cannon
Release Date: Available Now


eBook ISBN: 978-1-952150-58-6
print ISBN: 978-1-952150-08-1
---
Trafalgar and Lady Dorothy Boone, still shattered by the consequences of their last mission, have decided to heed a warning from the future and put an end to the widespread use of magic. While Dorothy sits vigil for someone she loves, Trafalgar accepts the invitation from a fellow Society member to investigate an ancient queen's burial site.
A simple mission quickly turns sour, and Dorothy finds herself racing to save not only her friend and partner, but the whole of London. While the Society is stronger than ever, Dorothy herself is alone without her closest allies and advisors.
Faced with the choice of a horrible loss and a potentially catastrophic future, Dorothy makes a decision which could change the world forever... and cost her the very thing she hopes to save.
Read more at Goodreads. 
Buy at your favorite bookstore: Amazon | Amazon UK | Kobo | Smashwords | Barnes & Noble
Or ask your public library to purchase it!
Streaming available on Scribd.
---
Share this Product
---
More from this collection