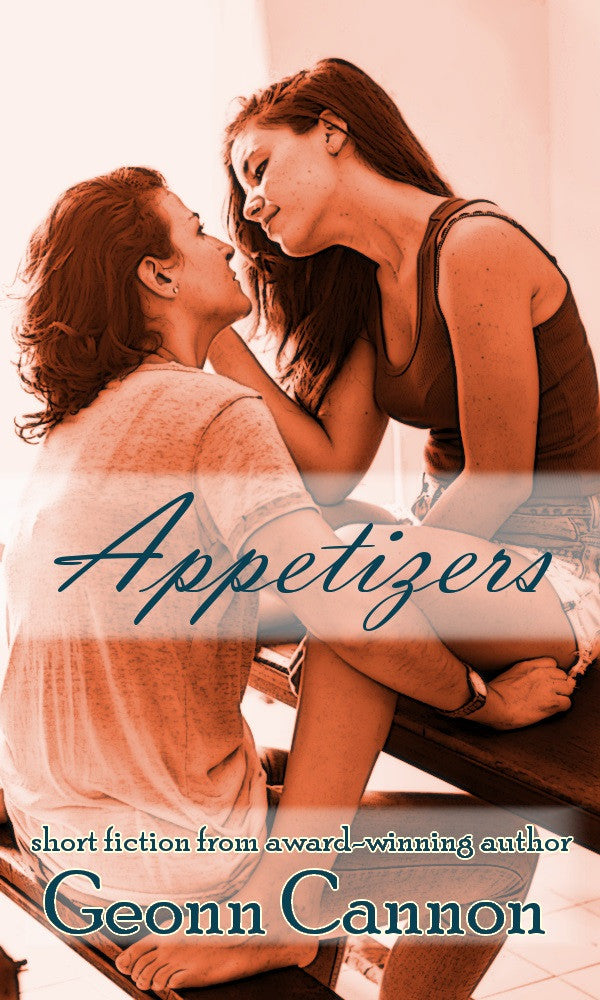 Appetizers
Author: Geonn Cannon
Release Date: Available Now


eBook ISBN: 978-1-944591-85-4
print ISBN: 978-1-944591-44-1
---
A short story collection by Geonn Cannon. Read the reviews at Goodreads. These stories were first published on Patreon. Join now for an exclusive preview story every month.
Backroads & Boneyards - Kathleen's parents tried to calm their wild child with religion and a Bible college, but the end result is nothing like what they hoped for.
Curvy Privateers & Scurvy Sea Dogs - Two employees at a theme park use their characters to overcome their nerves.
Celestine & the Gypsy: A Radiation Canary prequel - 1979. Metairie, Louisiana. Debra Kent and Celeste Lafitte begin a friendship that will take them through their final year of school and into a life neither of them ever anticipated.
Clothes Maketh the Man - Hannah is captivated by a beautiful man she meets at a coworker's party, but fails to get any contact information from him. When she finally does track him down, she discovers she's made one very big assumption about her crush, and following through on her attraction may require more than she's willing to give.
Common Tongue - Two women in a foreign country form a powerful and special bond despite the lack of a common language.
Even Money - Marlin  Kensleigh is a bookie, and her outwardly geeky appearance tends to make people think they can push her around. But Marlin is no pushover, a fact tattooed mechanic Sidney Gracen is about to find out for herself
Every Savage Can Dance - Inspired by Jane Austen, who never let her female characters have any fun together. A very proper young lady sees her friend in an unexpected light after a torrential downpour. (Requested and Graciously Shared by Michelle Rinehart)
Open Sesame - A retelling of 'Ali Baba and the Forty Thieves'. A poor urchin in a crime-ridden city takes an opportunity to rob from thieves so she and her lover can have a better life.
Knockout Stage - Goalie Steph "Dagger" Thomas' soccer team made it to the Olympics, but their dreams of gold were shattered by a single goal. Back home, Steph sinks into a depression that threatens her love of the game until a chance encounter gives her something else to fight for.
A Perfect Stranger - Sofia Kennedy's first time with a woman is a magical and anonymous encounter during college. (Sofia Kennedy also appears in my novel 'Breaking Anchor')
Sexiled - A girl blocked from her dorm by an amorous roommate finds a kindred spirit to share the night.
Storm Sirens - A girl seeking shelter from the storm witnesses an intimate moment and makes a drastic, criminal decision to create a happy ending.
Those Who Consort with Beasts - A classical canidae story, set in the Underdogs universe. A wolf and her daughter living on the outskirts of Salem in the 1690s must decide what she's willing to risk when the woman she loves is arrested as a witch.
Unscripted - Penelope and Caroline are a typical California couple who work in "the industry" as actresses. Their stage names are Wanda Lust and Evie Archer, and you won't find their movies on Netflix anytime soon...
Without Him - A drunken escapade between friends leads one of them to unexpected revelations.
Buy at your favorite bookstore: Amazon | Amazon UK | Smashwords | Kobo | Barnes & Noble
Ask your public library to buy it!
---
Share this Product
---
More from this collection