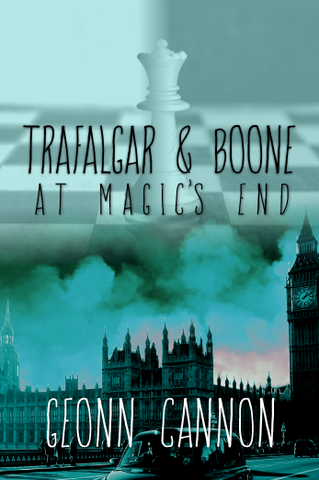 Trafalgar & Boone at Magic's End (Trafalgar & Boone 6)
Trafalgar & Boone return in book 6! (Steampunk, F/F)
---
Historical fiction has moved from a side project at Supposed Crimes to a major influence in LGBTQ fiction. The 2017 Rainbow Awards recognized two Supposed Crimes titles: 
Beast at the Door, by Althea Blue, a lesbian romance in a light steampunk / clockwork setting, where a runaway girl finds another girl in a mysterious house. 
Third Place
Best Lesbian Debut Book
Supposed Crimes has been coaxing Althea Blue to publish her lesbian fiction for years, and the editor hopes that winning a major lesbian award will provide validation. Althea's got more historical lesbian fiction in the works, including a selkie story that isn't just a retelling of the same old legend. Lesbian mermaids and angst, yes!
Trafalgar and Boone and the Drowned Necropolis, by Geonn Cannon, a 1920s steampunk / ancient aliens yarn with magic and his own twist on a lesbian Indiana Jones. 
Second Place
Best Lesbian Historical Fiction
Trafalgar and Boone has been the cornerstone of Supposed Crimes historical fiction since its inception, and has been repeatedly recognized as outstanding work by Kirkus, Publisher's Weekly, and now the Rainbow Awards. Trafalgar and Boone was the first lesbian historical romance at Supposed Crimes to sell translation rights. 
What Everyone Deserves, by Dan Ackerman, is a gay vampire story that only earned Honorable Mention at the Rainbow Awards this year. A sensitive portrayal of gay and black life in the 1950s, with just a twist of urban fantasy--the protagonist, deeply loved by readers, is a fertility demon whose heart has been broken. It's still up for several other awards, so here's hoping its genius is recognized. 
---
---