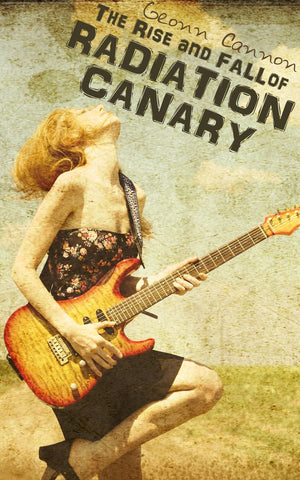 The Rise and Fall of Radiation Canary
Karen Everett isn't looking to join a band the day she loses her notebook of poetry. She plays the cello and is unsure about what she wants in life, but she's pretty sure it doesn't involve being a professional musician. But a crush on the band's beautiful lead singer Lana Kent, along with the desire to have her poetry shared with a larger audience, leads her to throw caution to the wind and play an audition that leads to her being invited to join the band at gigs.
---
Supposed Crimes started as a lesbian publisher when Geonn Cannon and C. E. Case (aka Rysler) came together to publish Geonn's new lesbian series, Riley Parra, and C. E. Case's first novel, Little Disquietude. We were both disenchanted with other lesbian publishers that, it turns out, were going out of business anyway. Because we have mad respect for competitors like Bella Books, Bold Strokes Books, and Ylva (and Dreamspinner and Torquere on the GLBT/gay fiction side), we wanted to create something totally different.
Supposed Crimes became the first lesbian publisher to focus on genre fiction--especially science fiction, action and adventure, and detective fiction. We love historical lesbian fiction and westerns also. Most publishers have a healthy mix (and we do too), but we wanted to actively recruit writers looking for more than just another romance. So far we have over fifty lesbian stories with strong female leads, often including violence. 
C. E. Case loves violence perhaps too much, but it's opened the door to stories about strong, diverse women of all types whose creators have been told they're "too gay" for mainstream publishing. We're hoping to change the tone of the conversation by becoming a mainstream genre/pulp GLBT publisher ourselves and we're well on our way.
Our award-winning lesbian titles such as Gemini by Geonn Cannon and Turn for Home by the famous and beloved Lara Zielinsky, sequel to Turning Point, have put us on the map as a high quality publisher of women's fiction who celebrate women loving women. Geonn Cannon is the only man to ever win a Golden Crown Literary Society award, and we love that. We want to break the rules and challenge expectations when it comes to what fiction about women loving women means. We also embrace Christian lesbian fiction and welcome bisexuality and gender identities beyond the "parts." 
Our recent Kirkus-starred Trafalgar and Boone series has sealed the deal. We're innovative, edgy, and here to stay as a flourishing LGBT press--and so much more.
---
---