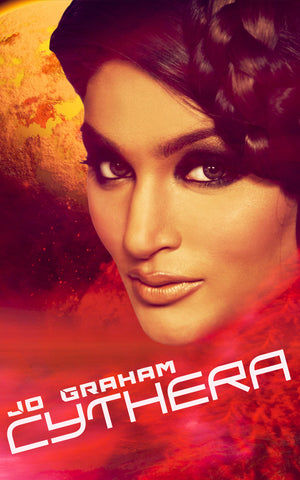 Cythera
Cythera is a sacred courtesan famed through the Nine Worlds for opulent beauty and decadence. (Erotica)
---
At Supposed Crimes, we're hoping to make a name for ourselves in LGBT science fiction publishing (not so much with the fantasy). 
Our breakout hit is Under Dark Sky Law, by Tamara Boyens. This apocalyptic thriller has a bisexual female lead, Xero, and takes place in the wasteland of the American Southwest. Scenery might be recognizable from Breaking Bad. But it's now covered by domes, not all of them functional. This is our first book to show up consistently in major book sales in print. 
We want to combat the controversy that has surrounded the Hugo Awards in recent years. The anti-diversity sentiment in science fiction is ridiculous and unfortunate. We want to blend our GLBT ideals with speculative fiction--where metaphor to confront social issues is common and important. 
Another novel that exemplifies this is Jo Graham's Cythera. Despite Jo Graham's high profile as a science fiction writer, she had trouble finding a publisher open to diverse, bisexual characters. Cythera's exquisite world-building and rich erotic overtones should be celebrated. Tamara Boyens is pushing us farther and Cythera is our cornerstone.
Too often we hear from our writers that publishers have demanded their science fiction stories, where it shouldn't matter, be "straighter." Such is the case with The Wolf Inside, by Tyler W. D. Stewart. It features only a subtextual love story and is mostly an action and adventure apocalypse novel, and because it doesn't fit neatly into one category or another--a reviewer on Amazon says the lesbian element is not strong enough. 
Geonn Cannon's Sojourn and The Remnant Fleet are more traditional space operas, and more traditional lesbian stories. We hope they, like all these books, become crossover successes, appealing to science fiction lovers at large, and our LGBT audience, too. 
We obviously believe in and love these novels and don't understand why reading or publishing them requires such a leap of faith. It's science fiction, after all!
---
---