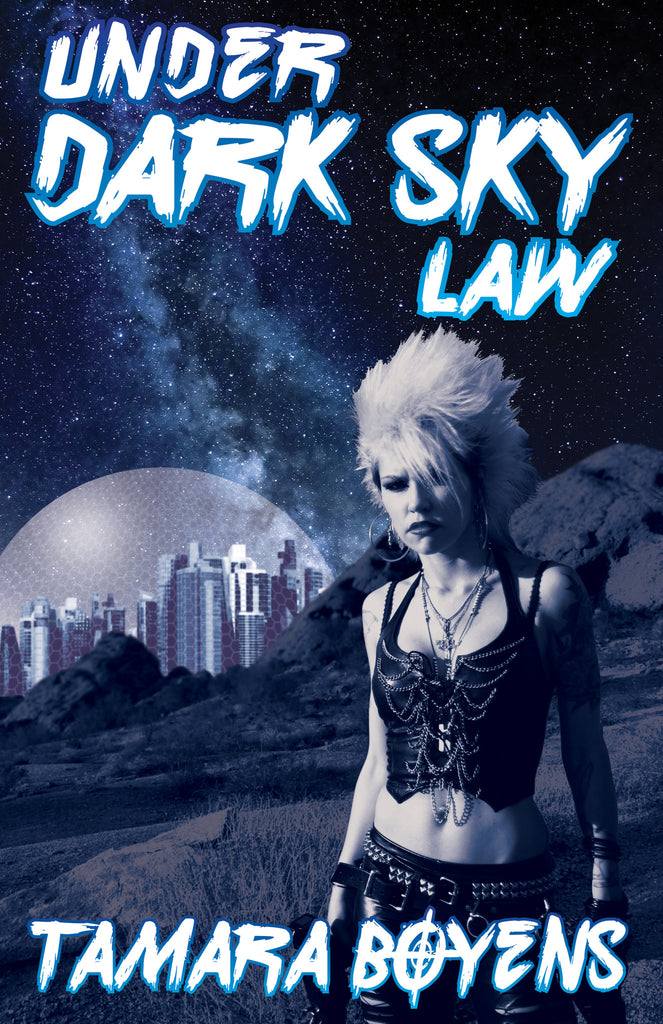 Under Dark Sky Law
Author: Tamara Boyens
Release Date: Available Now


eBook ISBN: 978-1-944591-00-7
print ISBN: 978-1-944591-01-4
---
"Gripping and visceral, the story is as addicting as the dope that powers post-apocalyptic Arizona. As a sci-fi fan, this book gave me everything I look for in a good read: interesting characters and a fascinating look at our world through a different lens. If near(ish)-future post-apocalypse is your thing, give it a shot." - J. R. at Amazon
Xero knows what she wants: absolute rule over Southern Arizona, a cure for the superbug that's killing her best friend, and a decent bar of soap. Some are easier to get than others. 
The dreaded Zaps are dissolving Trina's lungs, and only a rare medication can save her. No problem: Xero is an expert smuggler. As the ruler of the Tucson Exiles, she hustles supplies for the government and then pumps the desert full of illegal designer drugs on the sly.
Catastrophe looms when Yuma goes kaboom, and Trina's cure is destroyed along with it. All that remains is a complicated web spun from Xero's biggest demons: money, germs, and drugs. As she struggles to dig up some ketacillin, one thought stays with her: Who do you have to kill to get some soap and a hot shower? The body count climbs as Xero struggles to protect her friends and stay clean in a very dirty world.
Buy at your favorite bookstore: Amazon | Amazon UK | Barnes & Noble | Smashwords | Kobo
Ask your public library to buy it!
Now available as an audiobook! Listen to Under Dark Sky Law on Audible
---
Share this Product
---
More from this collection