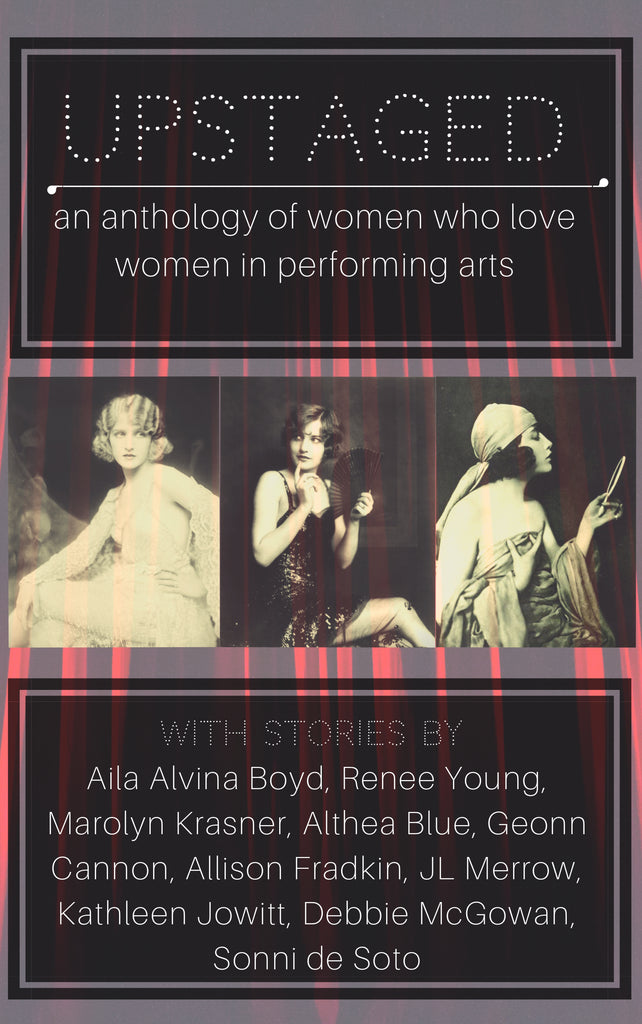 Upstaged: An Anthology of Queer Women and the Performing Arts
Author: Aila Alvina Boyd, Renee Young, Marolyn Krasner, Althea Blue, Geonn Cannon, Allison Fradkin, JL Merrow, Kathleen Jowitt, Debbie McGowan, and Sonni de Soto
Release Date: Available Now


eBook ISBN: 978-1-944591-53-3
print ISBN: N/A
---
We had everything from actual plays to space operas to period pieces to contemporary romance. These talented storytellers captured womanhood, and women on stage and screen, in all their beautiful, wonderful glory. In the end, I was only able to take ten stories. These are the ones that made me laugh and cry and want to sing. There are erotic and sensual tales, gender non-conformity, trans women, lesbians and bisexuals, politics, falling in love, parenting, youthful crushes, opera, toe-tapping musical numbers, death-defying stunts, humor, and more. This anthology is a celebration. 
A.M. Leibowitz, editor
July, 2018
Read reviews on Goodreads. Stories Included:
Presenting the Revival of Jan, Aila Alvina Boyd - Years after blowing her Broadway debut, a former actress is convinced by the playwright to come out of retirement in order to revive the role that pushed her to the brink of insanity.
The Helsinki Incident, Renee Young - After an unexpected, erotic encounter with a mysterious and beautiful stranger, the lead guitarist of a band touring mining outposts across the solar system rediscovers her love of music.
I, Stage Manager, Marolyn Krasner - A short love story about a stage manager, eccentric theater types, a kooky best friend, and leather daddies.
End of an Era, Althea Blue - In the years leading to the death of the silent film, many careers were ended prematurely. But do we really know everything there was to know about the silent stars who faded away?
Knife's Edge, Geonn Cannon - Amid the insanity of the circus, Arlie and Ru must place absolute trust in each other. Arlie trusts that the blades will hit their intended target, while Ru trusts that Arlie won't flinch. It would only take the smallest of mistakes to destroy that trust.
I Think I'm Gonna Like It Queer, Allison Fradkin - Theatre is an ensemble of inflection, projection, and rejection. So when 16-year-old Reyna—a performer who's part prima donna, part dreamgirl next door—desires a duet with Melinda, the ingénue who plays her best friend, she can't just run and tell that. Or even run and tell Melinda. But with the arrival of a triply threatening romantic rival, it's five to places and ten to one that Reyna had better act on her feelings before the curtain closes on her chances.
London Lark, JL Merrow - Repairing a salvaged automaton becomes a labour of love for apprentice tinkerer Harriet Hodgkins. But the clockwork coquette is destined for resale, and Miss Pandora's restoration will signal their separation—unless Hodgkins can engineer a more auspicious ending.
Prima Donna, Kathleen Jowitt - Everybody knows why the great Signora Valli left the Licorne opera company. Everybody, that is, except Monsieur Perret, who's taken the brave - some would say foolish - decision to cast her opposite rising star Delphine Vincent-Leclerc in Rossini's Tancredi. But what everybody knows is only half the story.
Oh No She Didn't!, Debbie McGowan - Once upon a time, in the not so faraway land of small-town amateur dramatics, there lived a widow called Marcy and her beautiful, grown-up daughter, Ginny…
Rise or Shine, Sonni de Soto - What is Cadence Carrington to do? Her public life is colliding fast with her private persona, when her boss at the governor's office sets his eye on shutting down the club she secretly performs burlesque at as featured dancer and femme fatale, Rebel Rouser. It's only a matter of time before she's found out, but the question is will she choose Cady's steady, straight-laced life or will she choose to be the Rebel she knows she is at heart?
Buy at your favorite bookstore: Amazon | Amazon UK | Smashwords | Kobo | Barnes & Noble
Ask your public library to buy it!
---
Share this Product
---
More from this collection