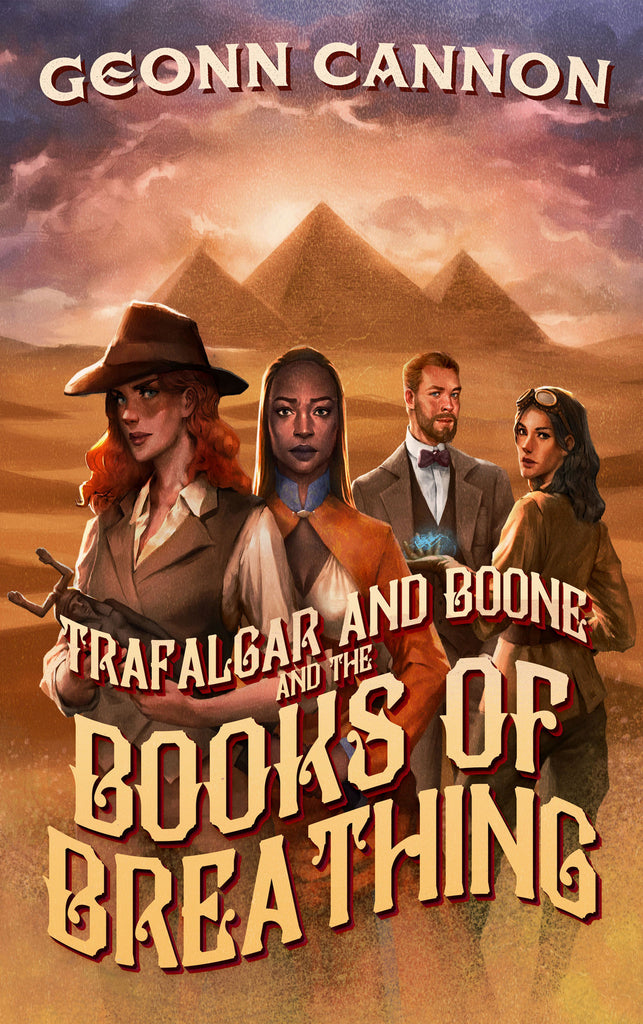 Trafalgar & Boone and the Books of Breathing (Trafalgar & Boone #3)
Author: Geonn Cannon
Release Date: Available Now


eBook ISBN: 978-1-944591-91-5
print ISBN: 978-1-944591-36-6
---
"Adventure and romance mingle with magic in Cannon's strange but eminently readable second novel ... following the archaeological meanderings of its Jazz Age heroines." - Publisher's Weekly
Read more on Goodreads.
Miss Trafalgar and Dorothy Boone have grown comfortable in their partnership. The rough edges on the society they formed with their fellow adventurers have begun to smoothe, opening the doors for a new era of cooperation among one-time enemies.
When Trafalgar receives an Egyptian statue, a gift from her former assistant, she asks Dorothy to determine its authenticity. What Dorothy uncovers throws both of them, along with the rest of the Mnemosyne Society, into chaos. With lives at risk and the future at stake, Trafalgar leads a group of reluctant allies from London to Egypt to stop an unspeakable power from falling into the wrong hands.
Meanwhile, Beatrice Sek continues her quest to discover her true origins. Armed only with the knowledge that she is one of four "Elementals," she spends her spare time searching for anyone who may know where she came from. She receives unexpected assistance from a former foe, a powerful enemy who promises to help her find answers. The offer is too good to refuse, no matter who it's coming from, but Beatrice may soon find herself forced to choose between revelation and surrendering her soul.
This is the third Trafalgar & Boone book, following Virtuous Feats (#1) and Drowned Necropolis (#2).
Where to Buy: Amazon | Amazon UK | Smashwords | Barnes & Noble | Kobo
More reviews:
"An imaginatively wrought, steampunk-influenced feminist adventure." - Kirkus Reviews
"Lady Boone is the lesbian Indiana Jones! What a wonderful, fun read." - Myra Swintz
"Part science, part historical fiction, part fantasy, part mystery, this tale is filled with adventure and bravery. I cannot wait for the next installment in this series." - Mehek Naresh
"Author Cannon ... populates his story with a bright, complex array of characters, mostly women and many LGBT and/or of color. It's refreshing to see such classically underrepresented groups overcome adversity and save the day in smart, sexy style." - Kirkus Reviews
 The next book in the series is Trafalgar & Boone and the Children of the Burnt Empire (#4).
---
Share this Product
---
More from this collection