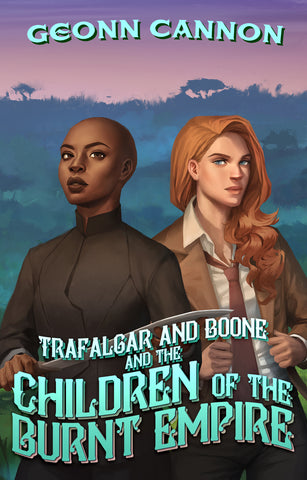 Trafalgar & Boone and the Children of the Burnt Empire (Trafalgar & Boone #4)
Trafalgar & Boone go to the Amazon jungle in Book #4 (F/F)
---
Why does GLBT Steampunk get its own category, you may be asking, if there are only a few books? We believe steampunk is its own unique genre. A blend of historical fiction, science fiction, and fantasy, steampunk novels appeal to steampunk readers. Just as Under Dark Sky Law, by Tamara Boyens, appeals to cyberpunk readers. 
Steampunk deserves special attention. As does its anchor novel, The Virtuous Feats of the Indomintable Miss Trafalgar and the Erudite Lady Boone. This lesbian story by Geonn Cannon was the first of Supposed Crimes' books to earn a Kirkus Starred Review and was named one of the best books of 2015. Trafalgar and Boone was also the first Supposed Crimes book to come out in hardcover, with hand-drawn artwork, and be featured on a podcast.
We take steampunk seriously! Trafalgar and Boone has been called the "female Indian Jones" story many times over, and readers have praised it for being a science fiction/genre story instead of a romance. Something different, something new. It plays like an epic movie and is one of the few Supposed Crimes series to feature magic. 
Geonn Cannon's other major steampunk work, Railroad Spine, is an airship saga, reminiscent of Stargate: SG-1, with lesbian characters, bisexual characters, and poly relationships. It's speculative and elegant, focusing on technology and knowledge, and of course, exploring morality.
Trafalagar and Boone continue in Trafalgar and Boone and the Drowned Necropolis, which goes further into the 1920s and ancient history. Challenging, racially diverse, and featuring GLBT characters, Geonn Cannon's steampunk work helps set the tone for Supposed Crimes and who we are. 
We would love more submissions. We want to be the best at what we do.
For speculative London that's post-apocalyptic, not steampunk, but sharing similar elements, check out The Organization by Lucy di Legge. It blends a traditional lesbian romance with science fiction, and has earned rave reviews. 
---
---